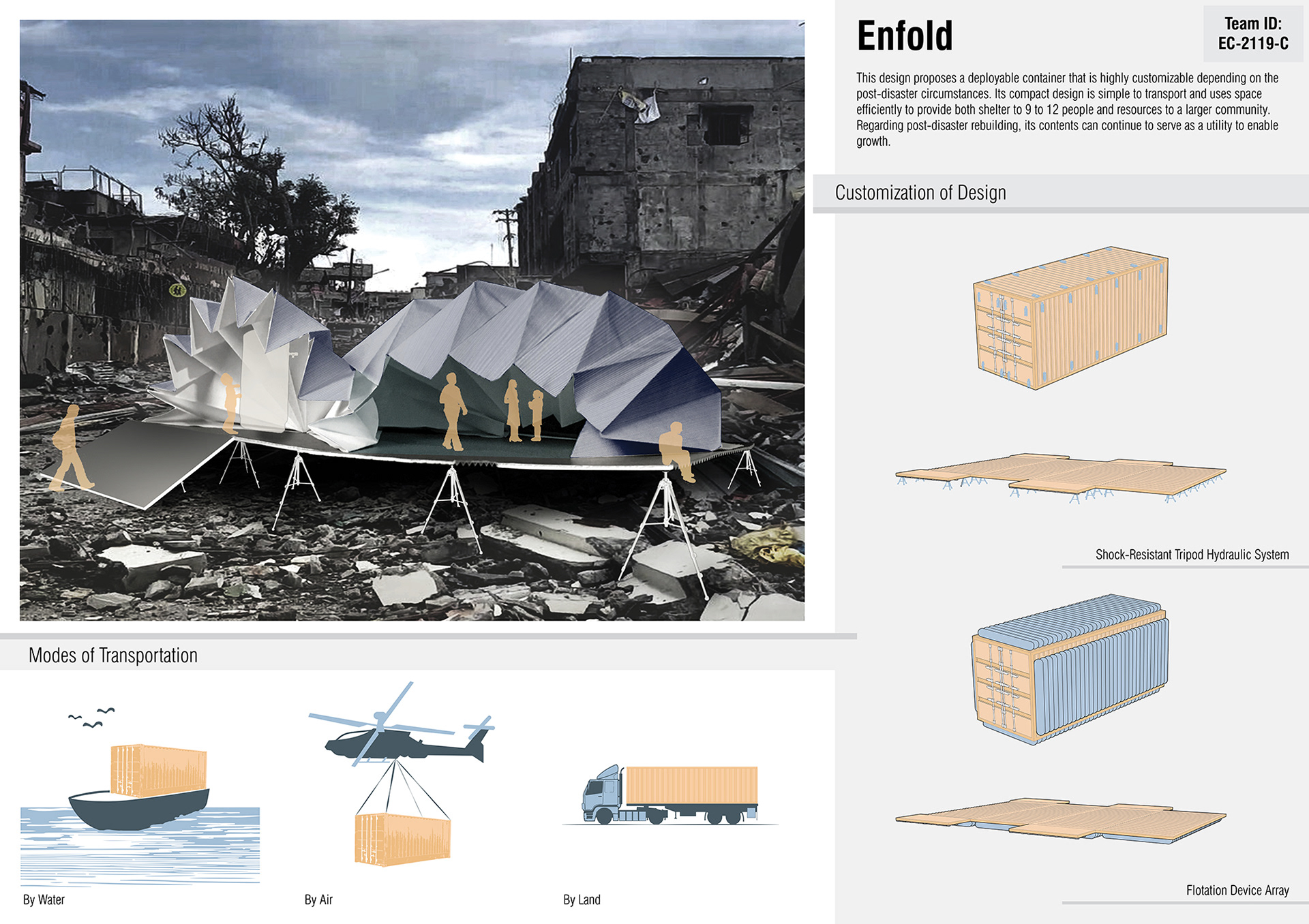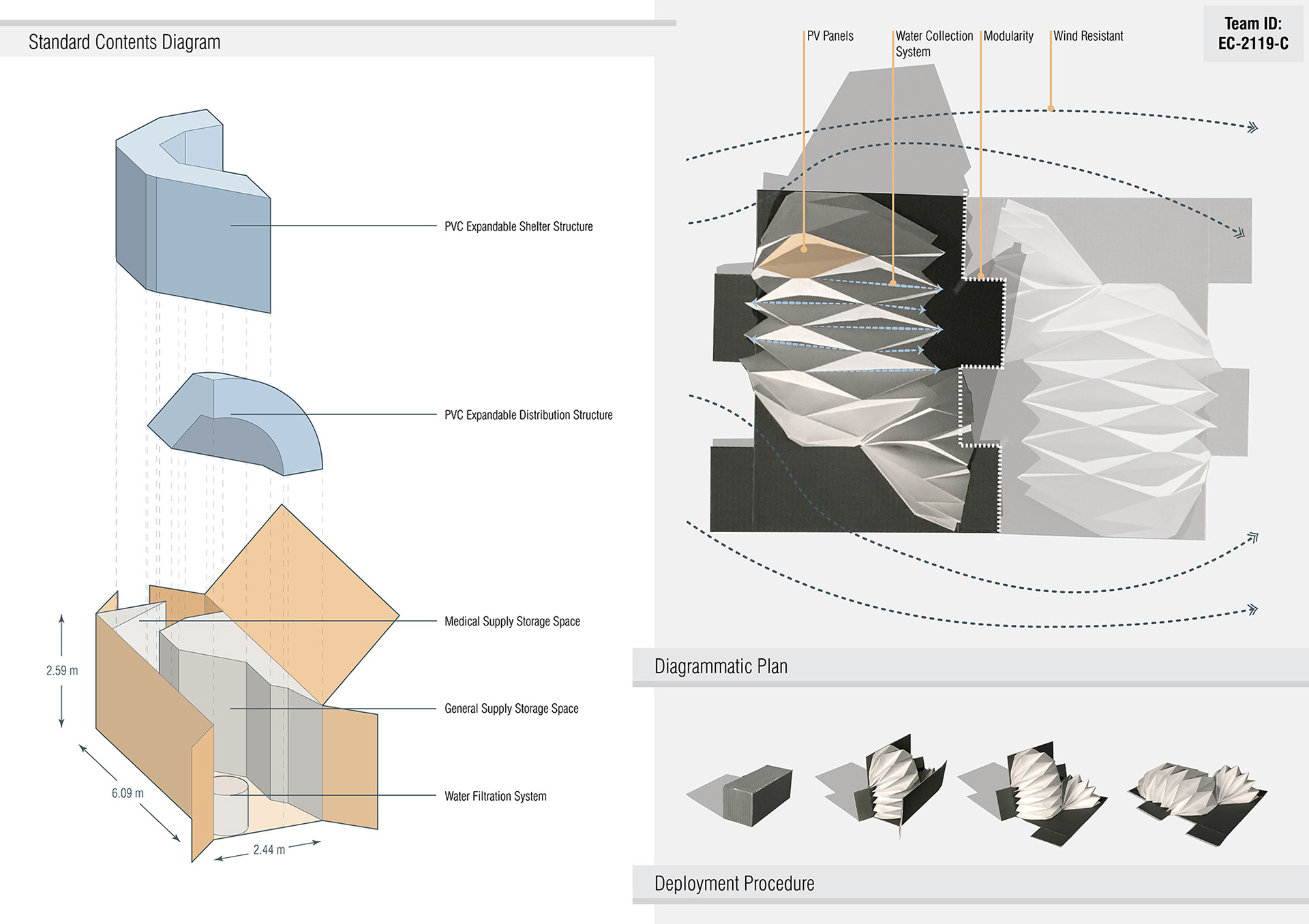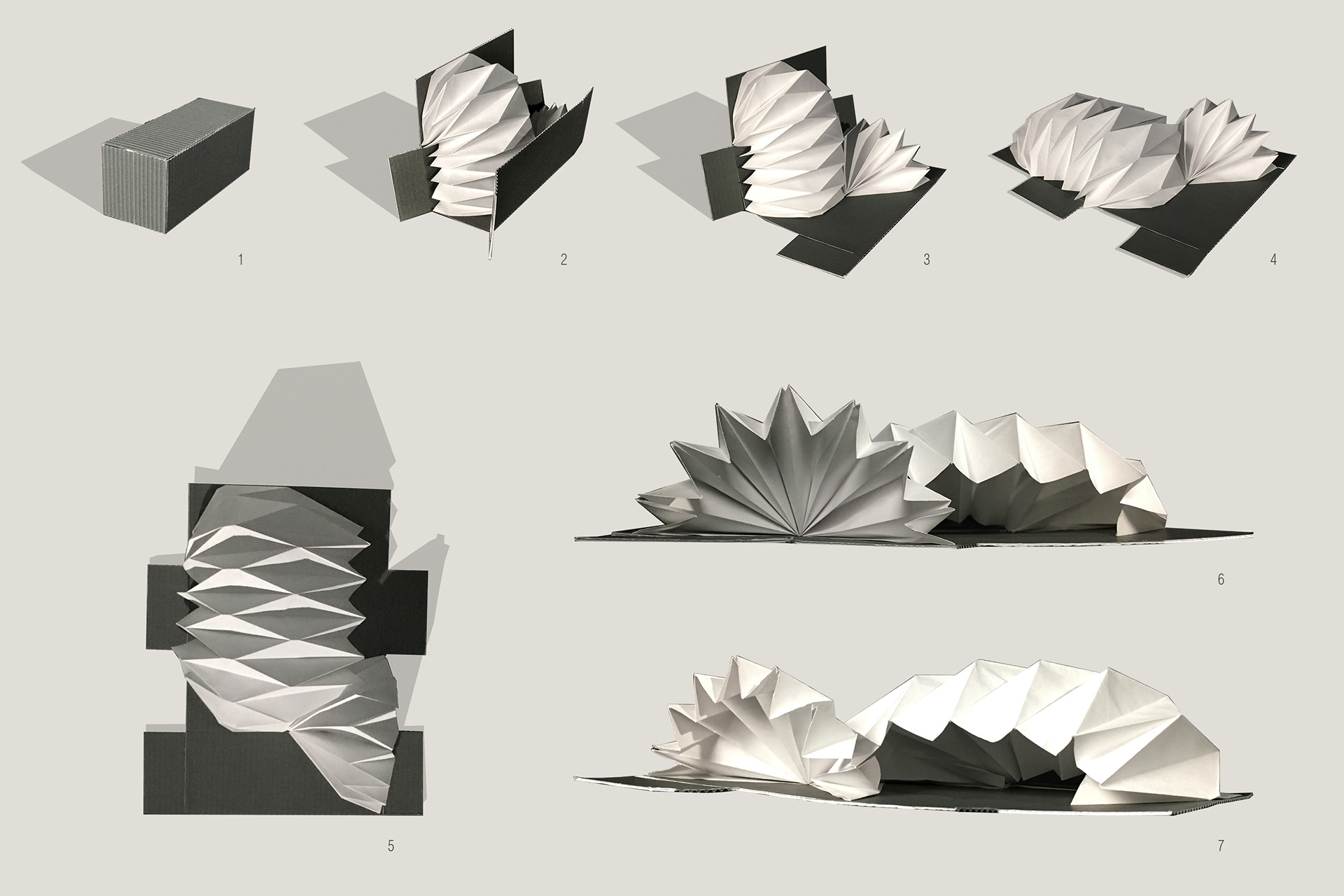 Project Statement
Enfold details a deployable container packed with expandable structures with space for storage. It hones in on water, first aid, shelter, and information as its key principles, yet simplifies other logistical aspects to enable survivors to access the container promptly.
The choice of a shipping container as a constraint lies in its international fluency as a means of transportation that already has existing infrastructure and calculated systems in place. Furthermore, containers can be transported by numerous means, whether by train, boat, helicopter, or otherwise.
To make efficient use of space, it was important to design collapsible structures that fill minimal space when folded yet expand to sizable domes as the container is deployed. Thus, the remaining negative space can then be used as a standard package including a water filtration system, medical supplies, and other necessities, or any other combination of resources depending on the situation at hand.
Enfold has also embedded the ability to adapt to most post-disaster environments by using one of two systems: a system of shock-resistant tripod hydraulics to adapt to unstable terrain, or a series of flotation devices for flooded areas.
This design is highly generalist in its approach by allowing the containers' attachments or contents to be customized according to the circumstances. Despite its compact size, each container contains two unique structures: a shelter structure capable of serving anywhere from 9 to 12 people as a place of rest, and a distribution structure capable of serving a much larger quantity of people by providing information, water, and other resources. These programmatic spaces can be altered depending on the situation at hand. For example, if the site needs a place to care for the injured, the shelter structure can be repurposed as a hospital to suit that need. Furthermore, these containers, given their modular geometry, also enable multiple containers to be delivered and for them to latch onto one another to bring the community closer in a time when supporting one another is crucial.
In addition, the structures are powered by roof photovoltaic panels that protect and shield its inhabitants from the elements and potential illnesses. Also it serves as a water collection system due to its unique ridges which feed into the water filtration system to provide clean water to the community.
In the long term, Enfold can become a reusable and repurposed resource. Each container can continue its life being repurposed to transport other goods around the world, or make its way around the world helping those in need as a shelter. In regards to its contents, the structures can be repurposed as solar panels to generate electricity for the community and the water filtration system can continue to support the community.
Enfold proposes a highly customizable, compact, and easily deployed solution to the issue of post-disaster relief support systems that can serve a large number of people and also be repurposed to help a community rebuild in the long term.