Similar to how birds gather materials from different places to come together and create shared dwellings, our project aims to mimic that idea by
designing a space meant to draw diverse people together, ultimately building strong lasting relationships within the community.
Building on that, our proposal for the Flatbush, Brooklyn mixed-use housing complex is based on
three principles: symbiosis, wellness, and nurture. 
The design and surrounding community are closely intertwined and benefit from each other through our
co-housing
concept. The nest also nurtures the environment through sustainable practices and nurtures the people through space making. And finally, wellness, our design promotes
healthy living for the well-being of residents and the greater community
.
Diving deeper into the idea of symbiosis, we decided to arrange the housing units through a
co-housing structure. This is an opportunity for people to have access to each other and building amenities.
All apartments are designed at the
highest quality and are ADA accessible
, which means any of the three types: senior, affordable, and market, could be assigned to any of the units. Each floor will have 5 studios, 7 2-bedrooms, and 4 3-bedrooms.  These unit distributions were based on our research in the NYC Housing Preservation and Development as specific to the needs of Flatbush.  The private commons contain living, dining, and kitchenettes to be shared among two or three neighbors.  The community commons contain additional shared spaces such as a larger kitchen, dining, laundry services, a library, and other recreational rooms. 
The residents use the building's organization to craft communities of their own.
Beyond the building scale, Flatbush residents benefit from the
wellness center, urban farm, and the park.
  Our design creates an
urban hub for local businesses, a healthy restaurant, and access to fresh produce for the community.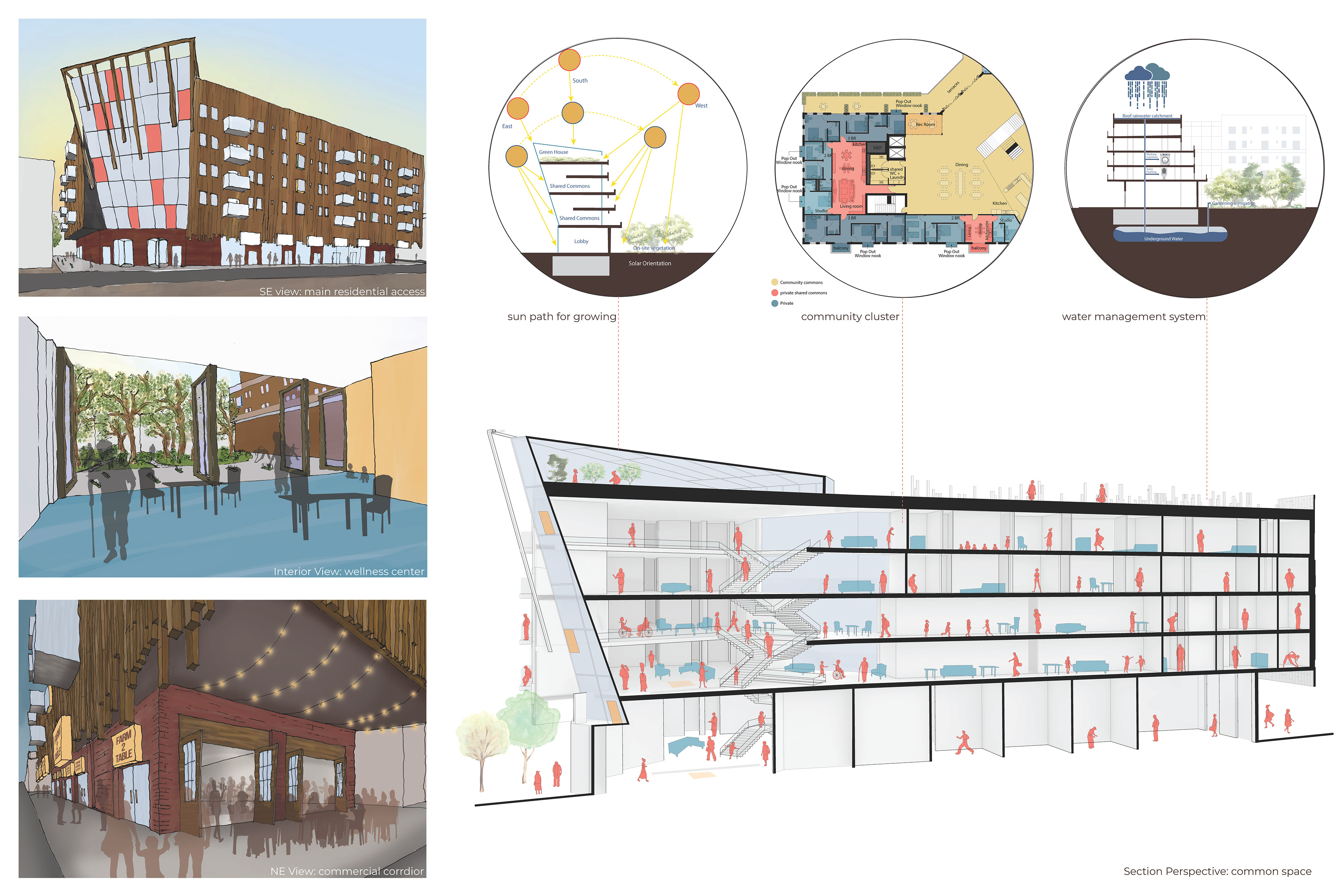 Expanding on the effort to activate good health in the community, we have designed
a wellness center on the ground floor.
 This space is meant to appeal to all subsets of people living in Project Nest. After researching the
East Flatbush Health Plan, we included patient care rooms
for seniors where medical professionals can visit them for check ups.  Children have access to a
play area
, with an adjacent lounge area for older kids.
This is an ideal place to host after school activities, and can be separated by a flexible partition wall with more chairs and tables for community meetings to take place.
The wellness center flows into the
urban garden which can provide fresh air for natural ventilation.
  This wellness concept also continues on the residential floors through the commons, with
shared space for floor gathering, defined by the large atrium. 
This space provides natural daylight with colored glass for added playfulness and adjacent balcony spaces that can also open for natural ventilation, which is a great addition to
indoor environmental quality
.  These building components are built advocates for togetherness, for people and families of all ages.
In continuing with sustainability, our idea of nurture is shown through our use of the building as a place for growth. We define growth as environmental, economic, and social inspired by the United Nations Sustainable Design Goals. By
incorporating energy and water efficiency, our project can utilize grants and loans provided by the city
, described in the 10 Year Plan proposed by the Housing New York organization. All water collected on the roof goes through a
sustainable water recycling system
that circulates throughout the building and irrigates the park.  The nurturing element that invigorates
economic sustainability is the Farm 2 Table restaurant in the commercial corridor.
  This restaurant will utilize
vegetables grown on the roof garden and greenhouse. 
Socially, this creates an environment that promotes
healthy eating and healthy living.
An environmental growth initiative we have incorporated is an urban park for the residents and greater Flatbush community to rest and relax.  The park helps breaks up the hardscape of New York, and is irrigated by a rainwater collection system on the roof.
Nest. Defined as a structure of place, made or chosen by a bird for fostering life and sheltering its young.
Our goal was to build a nest in the already defined structure of Flatbush, Brooklyn.
Our nest yields symbiosis, wellness and nurturing to meet the needs of both the residents and the greater community. Ultimately, it creates a place that shelters not only the young, but also the families and elderly of Flatbush. The primary goal of Project Nest is to promote healthy living and community building.